Making accessibility
more accessible
Now you can learn document accessibility from the industry experts that helped write the standards for document accessibility. This allows you to truly understand how your content will be read and interacted with by all users.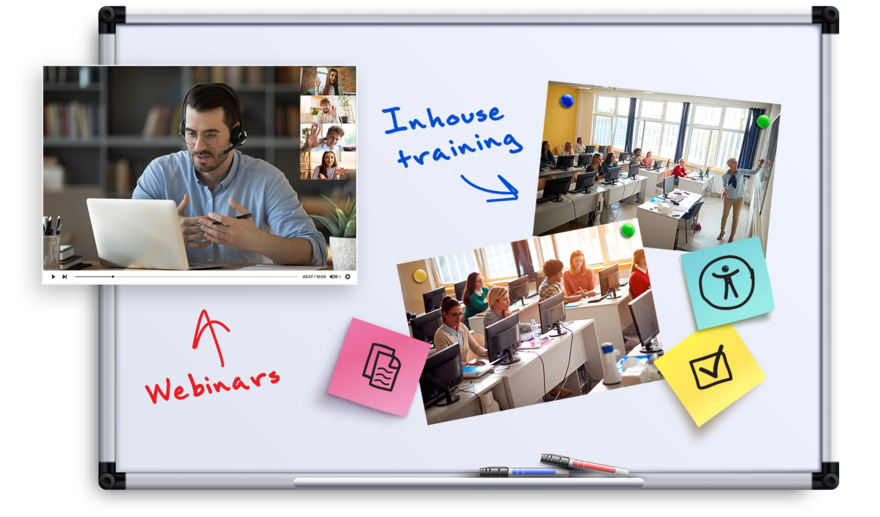 Targeted courses for your digital accessibility competence
Comprehensive, active learning
From the basics of digital accessibility to expert knowledge: With us, you'll learn to actively apply new knowledge right away. And you'll learn the principles that make it easy for you to find solutions to your accessibility problems in everyday life.
Training - Customized
We built our courses modularly. Depending on your previous knowledge, we can offer you a customized training for all our applications. Simply put together your own modules. Do you want a virtual session or an intensive practical course on site?
Focus on usability
axesTraining also focuses on usability. Participants learn and understand how a user interacts with content, and not just how documents meet the test criteria or how to work through checklists. Because accessibility without usability is like a pretzel without butter.
Suitable learning and exercise files prepared by us
For our basic and professional training, we rely on pedagogically prepared exercise documents. Optionally, we can also prepare learning files based on your documents. This way, the new knowledge is immediately applicable in your daily work. Even better: we can use your optimized templates.
Always up-to-date
New requirements, new program versions, new additional tools - we are always up to date and even know what is coming in the future. Our experts sit on the committees that develop the standards and techniques. And we attach great importance to the flow of information between development, training, and users.
Reference manuals
You don't have to memorize everything, you just have to know where to find it. Our training materials help you to do this. We have compiled our many years of experience in the area of efficient workflows for document accessibility in an understandable and comprehensible way. This gives you practical knowledge that you won't find anywhere else.